What Does Responsive Mean?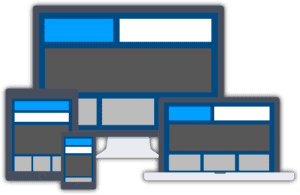 A website is considered responsive when the content of the website rearranges itself to adapt to the screen size and orientation of whatever device your visitor is using. A responsive website looks as good on a 4" phone screen as it does on a 27" monitor.
A few years back the number of people searching for websites on mobile devices like phones and tables became greater than the number of searches from traditional computers. As this happened, Google decided it would factor the design of a website into its ranking algorithm that determines who sees your organization's website in the search results.
Websites that were designed for traditional computers only did not give mobile users a good experience. As a result, businesses and organizations redesigned their websites (often keeping the same look and feel) to adapt to the visitor's device. This improved their search results, bringing more visitors, and conversions to the business.
You can quickly check to see if your website is responsive by adjusting the size of your browser windows on a PC. Shrink your window so it is only 4" wide and see if your website's content rearranges itself or if you have to scroll left and right to move around. If the website adapts to the new window, it is responsive. If not, no one searching from a mobile device (over 50% of visitors) will have a good experience on the website.